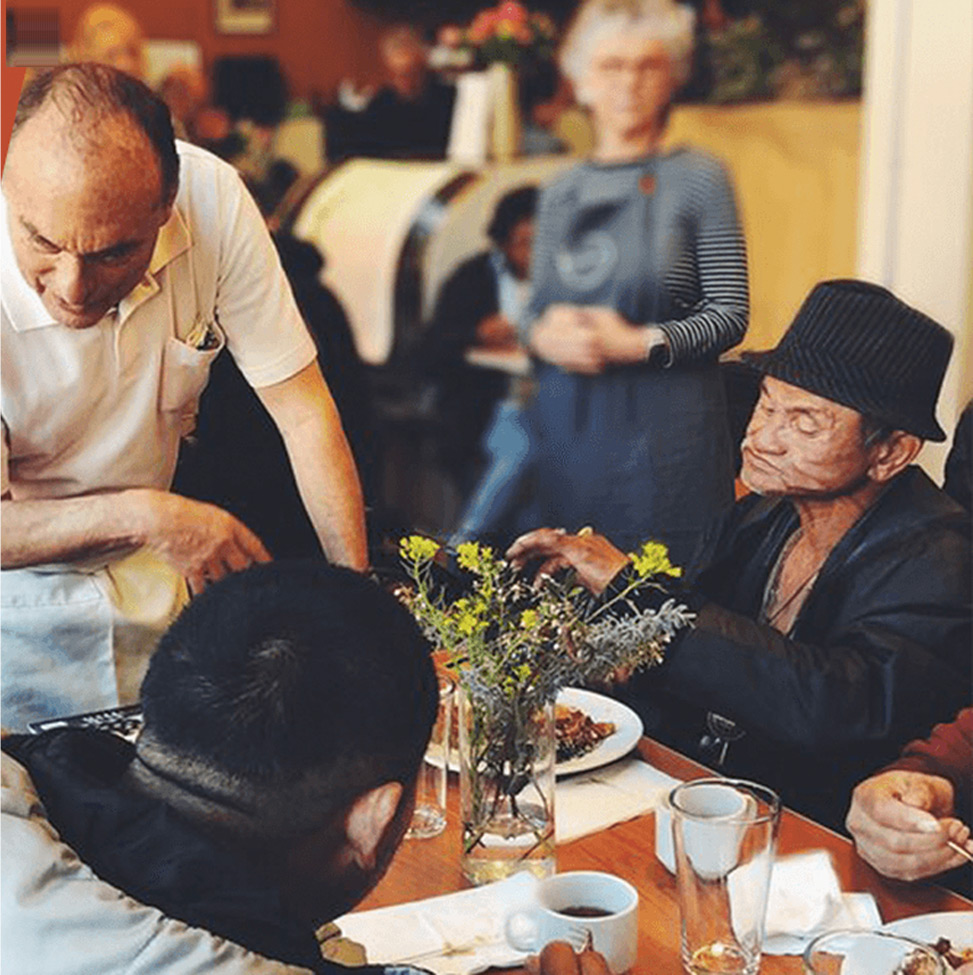 What re-wilding is to nature, re-humanizing is to humankind.
Healing. It's an ecology. Where incarceration becomes introspection. Introspection becomes recovery. Recovery becomes embodiment. Embodiment becomes love of Earth. 
We come together, forming a desire to contribute. To the work of peace, to transforming an individual. The way Yellowstone went into decline when we removed the wolf. The environment languished without its wildness. Only by bringing back the wolf did the ecology heal. For humanity, the wolf is our dignity. It makes us whole.
We focus
on restoring
human dignity.
We are transitioning the Mendocino County Jail garden—winding down the summer harvest and prepping beds in the winter garden for brassicas and cover crop.
Love to Table has started cooking meals for officers and staff at the Mendocino County Jail and Juvenile Hall, as well as the kids at Juvenile Hall, who have been delighted to taste produce from their gardens featured in these meals
We have 7 Art of Soulmaking Group Facilitators on the inside across two facilities and recently received an application from a Soulmaker on Death Row to become an Art of Soulmaking facilitato
Thank you to the three universities which have recently signed on to support The Art of Soulmaking letter volunteer program to their student bodies: New York University, Washington State University, and Eastern Washington University
Love To Table in California has 15 repeating and committed partner farms and food suppliers donating organic ingredients for farm-to-table meals to the homeless
The Earth Program just wrapped up its Soil & Water Summit at The Land, hosting experts from around the country from Ray Archuleta to Brock Dolman
The Mendocino Juvenile Hall project is preparing for the rainy winter, plotting out a plan to do kitchen and food preparation work in partnership with Love to Table's partner farms
Love To Table is now serving fresh, organic meals in Harlem every Friday evening. Since August the all-volunteer team has served over 450 meals.
Courtney Walker from the BlackBox team is touring the North East meeting with leaders in black communities specializing in technology, the arts, finance, farming and food
Jason Davis of the Harlem Bloods and now a leader in restorative justice has joined the Art of Soulmaking team
Jimmy Hill and Warden Bryan Morrison hosted our team at Lakeland Correction Facility to tour and learn from their award-winning corrections culinary program
We recently surpassed the 500 mark of students studying the Art of Soulmaking and 130 volunteers around the country
The Death Row Project now has over 100 incarcerated students studying The Art of Soulmaking across 30 institutions
30% of Mendocino County Jail's incarcerated population is enrolled in UFP correspondence, gardening and yoga programs
Served 200 meals in the Tenderloin of garden veggie frittata using fresh broccoli, onions, and basil, tomatoes with earl gray lavender cookies
The Meek Will Inherit the Earth
Meeked, a Greek term, is often misunderstood in today's culture. The original meaning of this term referred to wild horses which could be tamed to discipline, yet always retained the best aspects of their wild nature: raw power, and willingness to face adversity.  These horses proved far more valuable to society than those horses whose wild spirit was broken… read more