At Home, and In The World is a documentary about Unconditional Freedom, the non-profit that seeks to foster flourishing for all through dignifying the marginalized. Watch the trailer and sign up to premier the documentary about its series of projects changing the lives of thousands from those incarcerated, to the food insecure, to the black community, to Corrections Officers, and planet earth.
Rehumanization:
FROM DISCARDED
TO FLOURISHING
Rehumanization is the process of restoring marginalized people and groups to dignity; it sees each of us as an essential element to a thriving human ecology.
Subscribe to our monthly newsletter featuring short essays and stories about rehumanization told by program participants, their families, Unconditional Freedom staff, contributors, and partners.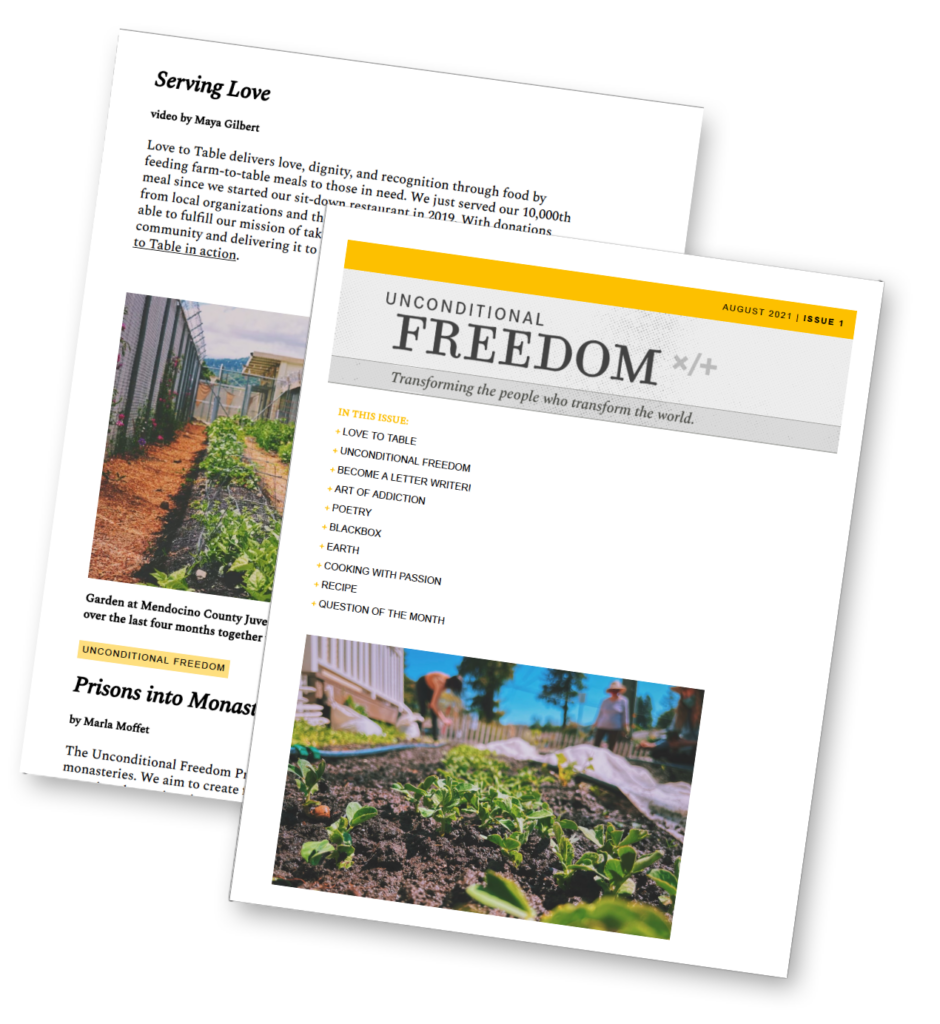 Activating the unique expression of the discarded
Unconditional Freedom Project
Turning prisons into monasteries
Restoring prisons to their original intent; penitence.
Spaces for contemplation, transformation, and
contribution.
death row residents nationwide
Liberating food for those in need
Free Food is about emptying what is full, and filling what is empty. This program provides dignified, nutritious healthy meals to those who otherwise could not afford them, and the opportunity to express love and contribute for those who have more than they need.
Over 22,000 meals served.
Soil into Climate Salvation
The Earth Program is our initiative to rewild the Earth. When we tend to the restoration of the earth, we are healing ourselves through healing the earth. We provide immersive training in ecological restoration practices both on The Land and to discarded populations.
A movement towards the reclamation of the innate power of Blackness, towards a world where the power of Blackness is overt, and is offered freely and it is in service to all of humanity.
Donate to Unconditional Freedom to help rehumanize America.