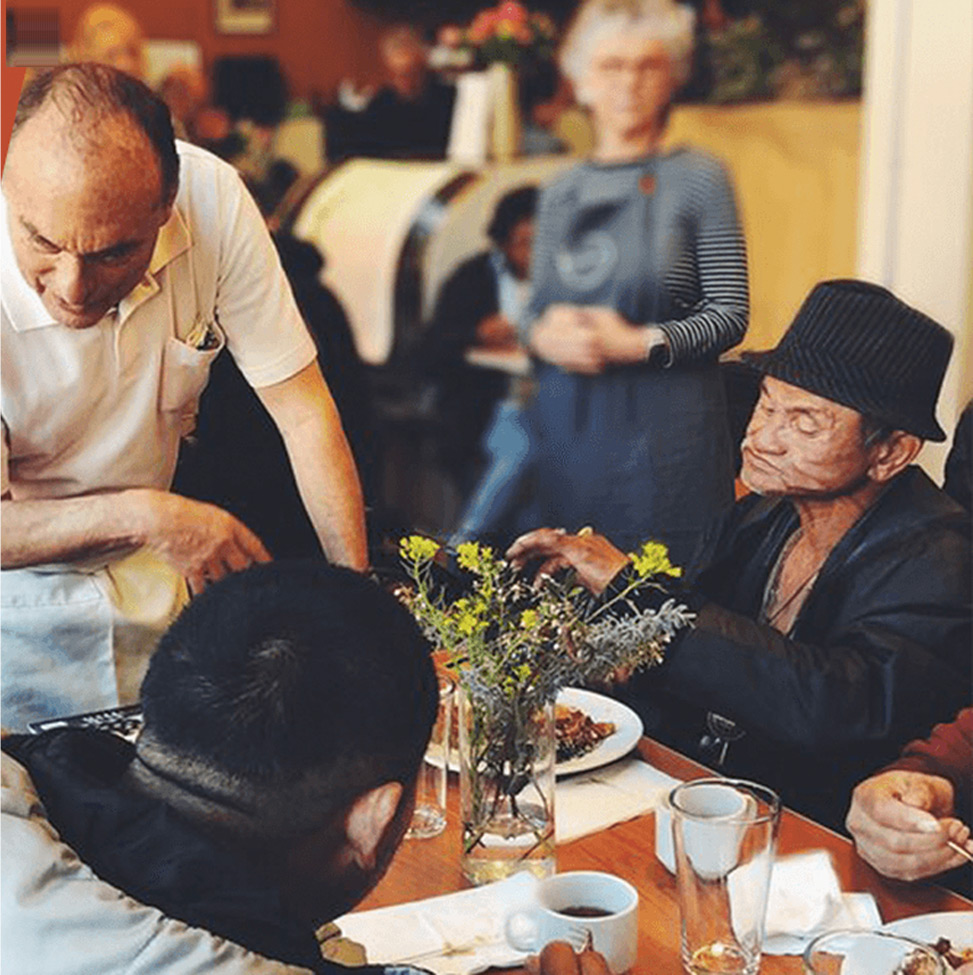 What re-wilding is to nature, re-humanizing is to humankind.
Healing. It's an ecology. Where incarceration becomes introspection. Introspection becomes recovery. Recovery becomes embodiment. Embodiment becomes love of Earth. 
We come together, forming a desire to contribute. To the work of peace, to transforming an individual. The way Yellowstone went into decline when we removed the wolf. The environment languished without its wildness. Only by bringing back the wolf did the ecology heal. For humanity, the wolf is our dignity. It makes us whole.
We focus
on restoring
human dignity.
30% of Mendocino County Jail's incarcerated population is enrolled in UFP correspondence, gardening and yoga programs
Served 200 meals in the Tenderloin of garden veggie frittata using fresh broccoli, onions, and basil, tomatoes with earl gray lavender cookies
Death Row Support Project, a nonprofit organization who has written more than 10,000 letters to people on death row since 1978, has begun requesting Art of Soulmaking workbooks.
Love to Table served our 10,000th farm-to-table meal to the homeless and those in need since October 2019
Love To Table Guest Chef, Harbor House, Michelin star restaurant chef served meals to 60 homeless and sheltered people
41 inmates on death row have been invited to participate in Art of Soulmaking program.
We broke ground on our new garden program at Mendocino County Juvenile Hall, with twice-weekly garden programming and connecting activities with 5-10 youth and our staff
We've created our Guardians Within The Walls program to restore dignity and vitality to our nation's Correctional Officers. We've interviewed and documented the life story of 10 Correctional Officers
We brush cleared 6 acres of forest in preparation for California's fire season
Our women's shelter garden had its first harvest of lettuce, strawberries, fava beans, and purple snap peas. We gave more than 10 bags of produce to the women to take home with them.
The Art of Soulmaking program is now live with 35 program participants housed in the Mendocino County Jail
Love to Table has now served 8,000 farm-to-table, organic meals to people in need since October 2019
100,000 prison residents in the California Department of Corrections and Rehabilitation saw our latest Chowchilla Blues Band music video, Loving Tree
Since January 2021, 28 yoga, meditation and mindfulness classes have been held by 9 different, independent instructors to raise a total of $2,803 for yoga mats for women in prison
John D. Liu, renowned ecologist and journalist featured in Kiss the Ground, visits Earth Program to help in improving local ecology and preventing forest fires
The Meek Will Inherit the Earth
Meeked, a Greek term, is often misunderstood in today's culture. The original meaning of this term referred to wild horses which could be tamed to discipline, yet always retained the best aspects of their wild nature: raw power, and willingness to face adversity.  These horses proved far more valuable to society than those horses whose wild spirit was broken… read more