by Louise Ayer
I have a special feeling for the herbs that grow in my garden. I think of them as allies. And the more I get to know them, the more they have to offer. Even if I made nothing with them, I would feel honored to have them growing on my land. But, of course, I do make different things with my herbs; salves and tinctures and teas amongst other things. One of my favorite things to make is body butter.
If you want to connect with your skin in a big way, make your own body butter. Our skin is our biggest organ, and I think of it as the gateway to our bodies. If you want to honor your body, honor your skin.
I have very dry skin. In the winter when the temperature drops, my heels often crack. Any of you who experience the same know it hurts like a paper cut hurts. Before I started making my own, I had trouble finding body butters that suited me and they seemed to have a million ingredients with very long scientific names that didn't sound like something my skin would like. This gave me the incentive to make my own, including growing my own herbs to ensure the highest quality of ingredients.
So, years ago, I started making my own body butter. I did a bit of research online about making body butter, and I bought a couple of books. One book which was very helpful was The Complete Book of Essential Oils and Aromatherapy, by Valerie Ann Worwood. And then I just started experimenting. I would make a small batch and try it on different parts of my body. Your skin will tell you if it likes it. Now I use my body butter on my whole body after I take a shower. I even use it on my hair instead of a product from a salon. Because it is a butter rather than a lotion, and there is a little bee's wax in it, it acts like a holding product would. A little goes a long way. I probably don't use more than half a teaspoon on my hair. It does not make my hair heavy or greasy. It makes my hair silky.
Ingredients (all organic, if possible):
8 ounces cocoa butter
¼ cup beeswax
8 ounces coconut oil
8 ounces shea butter
These are all the ingredients that are solid at room temperature. They must be melted. Set up a double boiler. Add water to the bottom of the double boiler. Turn it on to high until the water comes to a boil, then turn the pan down to low. Add all the above ingredients to the top of the double boiler until they all melt. Beeswax will take the longest to completely melt, about 15 minutes.
While the double boiler mix is melting, add the following ingredients to a large stainless-steel bowl:
8 ounces of pure vegetable glycerin
4 ounces rose water
4 ounces rose petal infused olive oil (see Cook's Note)
4 ounces calendula infused olive oil (see Cook's Note)
4 ounces aloe vera juice (I buy this from Whole Foods)
1 teaspoon vitamin E oil
25 drops frankincense essential oil
1 teaspoon lavender essential oil
1 teaspoon peppermint essential oil
20 drops sweet orange essential oil
20 drops geranium essential oil
20 drops roman chamomile essential oil
Now pour the ingredients from the top of the double boiler into a separate stainless-steel bowl and stir every 2 or 3 minutes as it cools to room temperature in order to prevent the beeswax from solidifying separately from the oil, about 20 minutes. Once it has cooled, you can add the rest of the ingredients from the other bowl.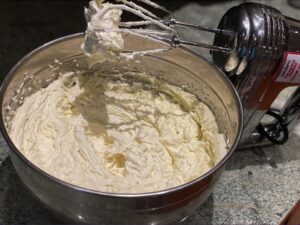 The next step is a process of cooling the liquid to a solid state, gradually, by putting the bowl in the refrigerator for 15 minutes, then taking it out and mixing it with a handheld mixer, then returning it to the refrigerator again for 15 minutes and bringing it out and mixing it with the handheld mixer. You will repeat this process, maybe five times until the liquid reaches a semi-solid state and you can actually whip the body butter on high. The butter will be opaque, solid but soft, and very creamy.
Now all that is left is to put it in containers of your choice, label and date them and enjoy the rich bouquet and creamy loveliness of this, your first, very own body butter. If your skin is dry, I guarantee it will eat this up and be most grateful to you for taking such good care of it.
Cook's Note: I grow a lot of herbs, and we dry a lot of herbs. I have a dehumidifier in my basement because we live on Cape Cod which tends to have high humidity, especially in the summer. It is a great place to dry herbs in baskets. When drying herbs, do it in a place without direct light. You can also dry herbs in a dehydrator and many of them you can hang in bundles.
Once they are dry, you can make infusions with them to use in your body butter. For my body butter I made two infusions. But the process is the same. All you need is a pint jar, your herb or dried rose petals and a carrier oil, which could be olive oil, almond oil, or grapeseed oil. I personally prefer olive oil. To make an infusion, fill your pint jar with your dried herb or flower and then fill the jar with oil. Make sure all the leaves or petals are covered with oil. Put a lid on the jar and label and date it. Store the jar in a cool, dark place. Every couple of days shake the jar to stir it. Let it sit for four weeks, at which point you can open the jar and strain the oil through a fine mesh sieve into another clean jar. Put a wide-mouth funnel in the top of the clean jar with the sieve inside of the funnel. Make sure you label and date the jar.
I, by the way, did not give this body butter its name, it was the daughter of a dear friend named Ana. Ana has an MD, PhD, and has been known to be quite cynical about homemade products. Ana's daughter had a nagging skin condition. Ana remembered a jar of my body butter that I had given her mother. She decided nothing else was working, why not try this. She did and her daughter's condition disappeared. Ana named it Weezie's Magic Cream.
Weezie is my childhood nickname. I look on this cream with childlike wonder that it should have been fashioned by my hand, this transformative, healing cream. The components of this butter are not just a list of ingredients. They all have properties that can heal, that are vital and alive, and under the right circumstances, like after a hot shower, when my skin is open and ready to receive, they can be transformative, affecting body, mind, and soul. While this is not meant to be a cure all, it has been a Godsend for my very dry skin!