by Anjuli Ayer & Louise Ayer
Anjuli was a creative writing and photography major with a concentration in food. In 2010 and 2011 we were doing preliminary work on writing a cookbook together. She also developed a blog called A Smart Mouth with her then partner Matt, and she and I contributed recipes and photographs for the blog. We posted for a couple of years until Matt and Anjuli decided to save a chunk of money and quit their jobs and travel the world together to see how different people developed a sense of purpose and connection in their lives. They developed a travel blog that they called Traveling Monkeys, which they used to keep connected with those at home. It was absolutely fascinating to see their pictures and read their posts. Sometimes its purpose was to communicate with those at home to reassure us that they were okay.
One time they were hiking in the Andes in Peru. They were hiking a trail 14,000 feet up. The path was often twelve inches wide with a dropoff of thousands of feet. Anjuli had a fear of heights that she was trying to conquer. She told me that there were times she was crawling on her hands and knees, crying, but she did it. They had developed a GPS that could beam to us, from a satellite, their position on the trail so, at least, we knew they were still with us. A week later the guide that recommended that they hike this path was hiking on the same path and died during a mudslide in which the path got washed away.
Anjuli was recently here on Cape Cod with her brother Austin and seven of their closest friends and colleagues. We had an exciting time in the kitchen cooking together, resurrecting some of our family favorites. Our meatball recipe is wonderful for a big group, hearty and satisfying.
I decided for this month's posting for the Unconditional Freedom Online Magazine to use our recipe for meatballs, posted on February 8, 2011 in A Smart Mouth. The only change I have made to the recipe is to change the type of meat to ground turkey, as we are not eating red meat at the present time.
Turkey Meatballs in Tomato Sauce, by Anjuli:
Meatballs in my family make their own meal. They're palm-sized and ever so tender nestled in tomato sauce with rarely a carb in sight. You could bake them in the oven—yea you could—but we like them simmered until they are just barely held together. Mom recently bought half a whole hog which she split with her good friend Priscilla who lives up the road. They'll be cooking everything save a few offal, including the head, which are illegal to ship outside state lines. She's still waiting on the cured bits, but ground pork, raw sausage, and chops have graced our table in the last few weeks. It's damn good pork, out of a small farm in Maine. Today we broke out the ground pork and some grass-fed beef.
A bowl appeared and in went oregano, some nutmeg, cinnamon, a little fennel, some sweet smoky paprika from Spain, garlic, minced fresh cilantro (I know it sounds weird but just try it, Ok?), a few good eggs, and wine from an opened bottle of Montepulciano. As we massaged the meat with the herbs and spices, I tried to recall the last time I'd had meatballs—I still can't and I don't know why.
Lately we have been poked and prodded, pricked and sized at every conceivable doctor and specialist's office to make sure all our parts are in working order for our travels. We're headed to Peru in under a month. And in addition to wearing ugly cotton gowns, we've been packing and researching and getting our kit together.
Meatballs, unlike spreadsheets, are wonderfully imperfect circles. Naturally, they're a good complement to regimented tasks. Hearty meatballs, big or small, also go well with new adventures and snowed in afternoons. They are perfect served up to old friends and equally so as offerings to new ones. As it so happens, meatballs also pair well with these gramps shades that Matt picked up at the optometrist. Meatballs are plump little gifts from the food gods. So find some meat to savor and serve 'em up for all to enjoy.
Meatballs (see chef's note):
2 1/2 lbs of beef, pork or ground turkey, preferably Organic and/or free range
1/2 Vidalia or other sweet, large onion, 1/4″ diced
1 1/2 cups garlic herb bread crumbs (see below)
1 1/2 teaspoons fennel seed
1 teaspoon smoky paprika
1 tablespoon dried oregano, crushed
1/2 teaspoon nutmeg, freshly grated
1 teaspoon cinnamon
1/2 cup lightly packed cilantro or flat leaf parsley leaves, minced
10 grinds black pepper
1 teaspoon salt
3 eggs, beaten
1/2 cup good dry red wine
1 quart tomato sauce (see below)
Break up the beef and/or pork with your fingers in a large bowl. Add the breadcrumbs, along with all other ingredients except the eggs and wine. Mix together with your hands or a fork. Add the eggs and mix thoroughly. Add the wine and mix until moist but not wet. Grab a good handful of the mixture and form into a ball, rolling around in your hands and pressing gently. Place on a plate or baking sheet. Repeat.
Heat a few tablespoons of olive oil in a large pan on medium. Once hot, lower the meatballs gently into the pan. Pan-sear for 5 minutes then turn over gently, one at a time and sear another five minutes. Meanwhile, get the tomato sauce ready on medium low in a Dutch oven or large pan with a lid. Add the meatballs and cover each with some of the sauce. Simmer on low to medium low, covered, for 20 minutes. Remove from heat and serve.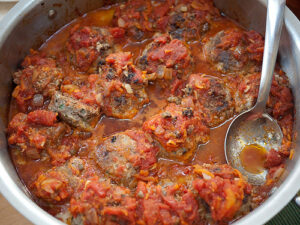 Tomato Sauce:
1/4 cup olive oil
1/2 Vidalia or other sweet, large onion, 1/2″ diced
4 cloves garlic, minced
1 carrot, washed, peeled and grated
1 1/2 teaspoons fennel seed
1 teaspoon dried thyme, crushed
1 tablespoon dried oregano, crushed
10 grinds fresh black pepper
1 teaspoon salt
2, 28 oz cans whole peeled San Marzano tomatoes, squashed with your hands in a bowl and stems removed
1 1/2 tablespoons capers, preferably packed in salt, rinsed and chopped
1/2 teaspoon chili powder (optional)
Heat the olive oil on medium in a large pot. Once hot, add the onion and sauté until translucent, about 5 minutes. Add the garlic and carrot and sauté a few minutes more. Add the fennel seed, thyme, and oregano and sauté a few minutes more. Add the tomatoes, 1 teaspoon salt and black pepper. Bring up to a boil and turn down to simmer for 30 minutes. Add the chili pepper. Taste. Adjust seasonings. Remove from heat or transfer to a Dutch oven (or large pan) to sauté meatballs.
Herbed Bread Crumb:
2 cups good sourdough, cubed
2 tablespoons olive oil
1/2 teaspoon sea salt
5 cloves garlic, minced
1 tablespoon dried oregano, crushed
10 grinds black pepper
Preheat oven to 350 F. Toss the bread in the olive oil and bake in the oven 10 minutes. Meanwhile, mix the garlic with the salt, pepper, and oregano in a large bowl. Remove the bread from the oven, toss it with the garlic-oregano mix, and dump back out on the cookie sheet. Bake another 10 minutes, until mostly dried out. Transfer the cubed bread and garlic-oregano mix to a blender. Grind or chop until the size of breadcrumbs, making sure to stir for even grit.
(Chef's Note: I decided to leave this post in its original format as a bit of memorabilia, but we aren't eating red meat at this point, so we make our meatballs with ground turkey.)