by Louise Ayer
Even though I love to cook and adore trying new recipes and concepts and innovating and creating my own and and and… I often view new equipment with consternation. It takes me a while to warm up. My daughter Anjuli left me a beautiful fire engine red Tagine made by Le Creuset when she left for Santa Fe. It was just one thing too many that would not fit in the car for her cross-country sojourn. "Try it, you'll like it," she said. So being me, I let it sit there for a while adorning my counter until I started to feel like a wimp. Now of course, after trying it I wonder why I waited so long.
Anjuli was right, as she always is. It is something I would like, a time-tested form of cooking from Morocco. You smear a little olive oil in the bottom, assemble all your flavorful ingredients in a bowl, add them to the Tagine with a little broth and voila, after a nice slow cook, you lift off the lid to be assailed by the most magical aroma. No fuss, no muss, you don't even have to brown the meat.
The shape of the tagine is the key to its success. The domed lid causes the liquid from the pan to condense and drip back onto the pan producing a very tender, juicy, flavorful dish.
This recipe has become one of our family favorites, part of a family tradition of delicious food, made of organic ingredients and healthful techniques that are relatively easy to prepare. If you have spent any time with us on The Cape, chances are you have been served a tagine in one form or another. Chicken, lamb, or beef are the typical meats used. You can use just about any form of dried fruit such as dates, raisins, apricots, figs, and currants, to name a few. Olives, spices, and cilantro are also included making for a complex flavor with a hint of sweet and spice in a rich broth that is served over rice.
Ingredients:
6 chicken thighs, washed and dried on paper towels
2 teaspoons paprika
1 teaspoon ground cumin
1 teaspoon ground ginger
1 teaspoon ground coriander
1 teaspoon turmeric
½ teaspoon cinnamon
¼ teaspoon freshly ground black pepper
2 tablespoons olive oil
3 garlic cloves, minced
1 leek, tough-end removed, cut in half lengthwise, washed and cut in ¼-inch dice
½ cup water or chicken broth
½ cup dark, Thompson raisins
¼ cup fresh coriander, chopped
¼ cup fresh flat leaf parsley, chopped
Peel of 1 lemon, cut in strips with vegetable peeler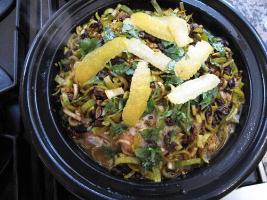 Note: In a dish like this it makes a great difference how fresh your spices are. I generally try to use mine up in two months and then dry roast some more to use for the next two months.
Assemble the Ingredients
Grease the tagine with ½ tablespoon olive oil. In a large bowl, measure out all the spices. Stir thoroughly to combine. Add the chicken and toss it with the spices. Add the rest of the ingredients and keep tossing like you would a salad until everything is combined. Place the mixture into the tagine.
Cook the Chicken
Place the lid on the tagine and turn the heat to medium low. If you have a diffuser, use it. It might take about 20 minutes, but bring to the boil and then turn down to low, just enough to maintain a simmer. Do not remove the lid. Simmer for 30 minutes. Lift the lid, turn the chicken over. Replace the lid and cook for 20 to 30 minutes more until everything is very tender. Check for salt and pepper. You can serve right from the tagine.